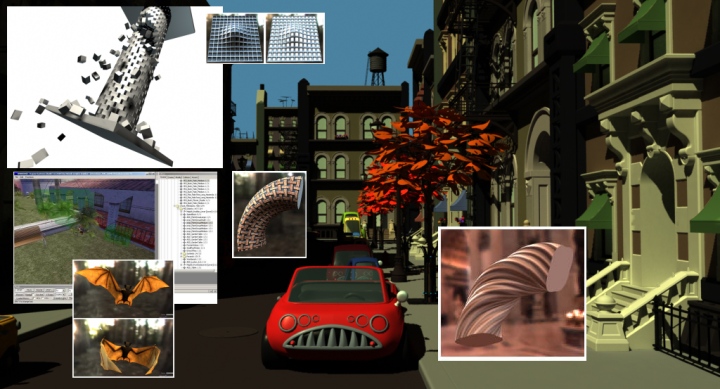 Images by Pixar (background image is copyright 2004 Disney/Pixar), Microsoft, DIKU, Deadline Games
Graphical Visionday 2005
Organisations, companies, and individuals with an interest in computer graphics are invited to join the Computer Graphics Visionday on Friday 3 June, 2005. The Graphical Visionday is a day with talks, posters and exhibitions on computer graphics. The Graphical Visionday is organized by Informatics and Mathematical Modelling, DTU with help from the Danish Chapter of the International Game Developers Association and the Øresund IT Academy.

Registration
Registration for the Graphical Visionday can be done here. The registration fee includes participation in the lectures, exhibition, proceedings, refreshments, and lunch.

For members of the Danish Automation Society (DAu), the Danish Robotics Society (DIRA), the Danish Biomedical Society (DMTS), the Danish Optical Society (DOPS), the Danish Pattern Recognition Society (DSAGM), the Danish Remote Sensing Society (DSTM), International Game Developers Association (IGDA) and Øresund IT Academy a reduced fee is applicable.
Program
08.00
Registration, exhibition, demonstrations, coffee, and rolls
Session 1: Sponsored by the Biophotonics Network, Speaker appears courtesy of Microsoft
09.00
Welcome and introduction
Professor Knut Conradsen, IMM, DTU
09.10
Keynote address
Precomputed Lighting: Theory and Practice [slides]
Peter-Pike Sloan, Microsoft

1010
Coffee, exhibition, demonstrations
Session 2
1020
The Architecture of the Kapow Systems Engine [slides]
Jacob Marner, Deadline Games
1040
Near Real-Time Multibody Dynamics with Stacking [slides]
Kenny Erleben, DIKU
1115
Coffee, exhibition, demonstrations
Session 3
1130
Presentation of student posters
1200
Lunch, exhibition, demonstrations
Session 4: Sponsored by the Biophotonics Network
1300
Using RenderMan for Ray Tracing and Global Illumination in Complex Scenes [slides]
Per Henrik Christensen, Pixar
1350
Coffee, exhibition, demonstrations
Session 5
1410
Integrating DirectX Shaders in 3ds Max - A Developer's Perspective [slides]
Neil Hazzard, Discreet
1500
Coffee, exhibition, demonstrations
Session 6
1520
Real-Time Indirect Illumination [slides]
Jeppe Revall Frisvad, IMM, DTU

1540
Imaging in Mobile Entertainment applications [slides]
Lars Halling, Softhouse

1600
The Torque Game Engine [slides]
Steen L. Nielsen, IMM, DTU

1620
Poster prize and concluding remarks
Andreas Bærentzen, IMM, DTU
1635
Exhibition, demonstrations, refreshments
1800
The Graphical Visionday ends
This is the final program, subject only to minor changes.
Sponsors & Contributors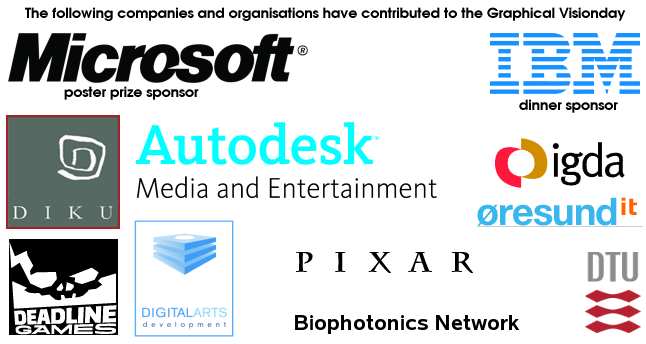 Exhibitions
The list of Visionday exhibitions can be seen here.
Posters
Students are strongly encouraged to bring posters.
There is a great prize for the best poster, and you get a chance to show a demo program during the poster session. If you want to bring a poster or see the list of posters: click here.
Conference Chair and Committee
Chair
J. Andreas Bærentzen
phone: +45 4525 3414
email: jab 'at' imm.dtu.dk

Program committee
Thomas Rued, IGDA, Digital Arts
Bent D. Larsen, IMM, DTU
Mikkel Gjøl, VR-C

Venue
Informatics and Mathematical Modelling
Richard Petersens Plads, Building 308
DK-2800 Kgs. Lyngby
Getting to IMM